Right – time for yet another "iA!" post…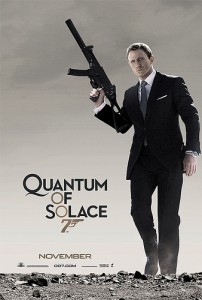 So I went to see Quantum of Solace yesterday (the new Bond, if you live under a rock), the latest in a long line of Bond films.
It was actually fairly good. It contained all the usual Bond things, like epic car chases, huge boat scenes, assorted weaponry, insane stunts, attractive women, good, ol' fashioned spy work, and an bucketload of witty quip and repartee. (Although, it is hard to have anything BUT witty quip and repartee…)
Apart from that, it was the usual Bond fare. It was interesting that it directly continued on from Casino Royale. If you haven't seen Casino Royale in a long time, then I highly recommend seeing it again before you see Quantum of Solace.
Also interestingly is the fact that there is no where in the film that Bond walks through the desert, holding an UMP45. He just doesn't do it, although there are a whole lot of desert scenes.
Agent Fields also doesn't play a huge part – much less in comparison to Camille.
Anyway, there was a huge line at Village when we went… comparable to the size of the line when Harry Potter was showing.
These annoying Year 8's (from Hutchins and Collegiate) were sitting behind us… constantly asking probing questions.
Anyways, I liked it, it is good, there is nothing more to say.
Original image credit flickr.
Comments below.