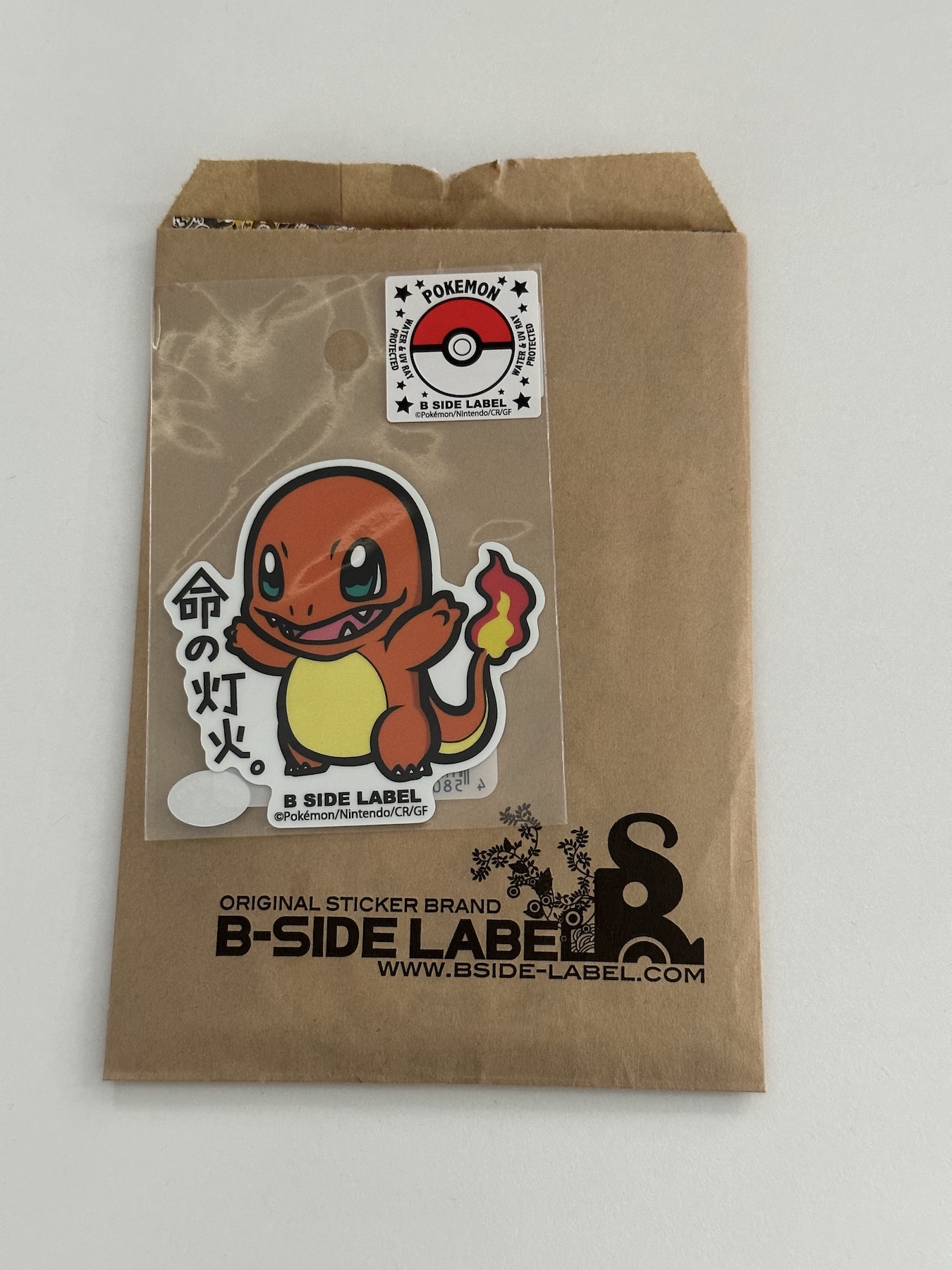 Ugh. This Pokémon store didn't have it either. Not only had I been to three different Pokémon stores in three cities by that point, but none of them had the Charmander sticker I was looking for. The tiny Pokémon Centre at Tokyo Station in character street didn't carry stickers at all, and this one, the Pokémon DX in Tokyo, had the stickers but was out of stock of more than just the Charmander I was after.
I had first come across B-Side Label stickers at the Fuji-Q gift shop, but it wasn't until I stumbled one of their brick-and-mortar stores in Kyoto that I realised that they were a real thing of their own and not just some collaboration between a sticker company and some big names like Nintendo/Game Freak and whatever anime you care to name.
Being somewhat of a sticker connoisseur myself, I was instantly drawn to their cool designs and incredible range. They covered basically every popular anime, and plenty of other subcultures I didn't recognise. If you managed to go to an actual B-Side Label store, they had entire books of their range, or you could browse their entire collection on an iPad.
I had seen Pokémon stickers previously at other Pokémon centres, of course, but it wasn't until the Osaka Pokémon centre that I decided I wanted a small set. But which ones? That was obvious. Pikachu, of course, plus the starter Pokémon and legendary birds from the original 151. While Gen I wasn't technically the generation I grew up with, it was close enough and far more recognisable, not to mention far more iconic. Anything after the first 251 Pokémon might as well not exist.
I managed to pick up Pikachu, the original starters, and the legendary birds at the Osaka Pokémon Centre, minus a Charmander. But that didn't matter, because I knew I had an extra couple of days in Tokyo, and surely, surely, one of those Pokémon centres would have a Charmander, right?
Wrong. So wrong.
Now that I had been to most of the Pokémon centres in Tokyo, it was time to go to plan B: an actual B-Side Label store. There had been one in Osaka (where I got in trouble for taking a video in the store, even though there weren't any signs saying it wasn't allowed), but the B-Side Label store in Tokyo was a little out of the way, and involved two short train rides and a 2.2km walk. By that point it was getting late, maybe 8 or 9pm, and I had probably already done 20,000 steps at Tokyo Disneysea and was beginning to feel it, but I knew that this would be the last chance I had to find a Charmander sticker to complete my set.
All I can remember is how I felt a wave of relief when the Harajuku B-Side Label store had the Charmander sticker I wanted. Missing out on the sticker wouldn't have been the end of the world, and would have given me yet another reason to go back to Japan (or just buy it online, if that was even possible), but otherwise I would have had a unique sticker collection.
My Pokémon stickers would have been missing a Charmander, but I had a good reason for when someone asked about why I was missing Charmander.
Well, I would have if the Charmander Expedition wasn't such a rousing success.