I've played a lot of video games in 2018. I got a taste of the grind in Destiny 2 when it was free, fought in the frontlines in Battlefield 5, taken down other drivers in the Burnout Paradise remaster, constructed mining ships of my own design in Space Engineers, explored a vast universe in No Man's Sky, and even tried out the DayZ 1.0, alongside my usual staple of Dota 2. But besides all the well-known games that I've played, there have been exactly two indie games which have been great enough to capture my attention, and this post is about one of them.
Return of the Obra Dinn is from Lucas Pope, who you might better know from the immigration paperwork game Papers, Please. Return of the Obra Dinn is slightly different, in that it's still about paperwork, but this time around you play the part of a insurance investigator. Officially, your job is to determine how much should be paid out to the crew of the good ship Obra Dinn, which in turn means figuring out all 60 crewmembers, and their fates.
To aid you in doing so, you have a magic pocket watch. And a notebook, but we'll get to that later. One of Return of the Obra Dinn's core gameplay loops involves finding a dead body, standing over it, and then using your magic pocket watch to go back to the moment of that person's death. These death scene freeze frames don't allow you to interact with anyone or anything, with the idea being that you can walk around, observe, inspect, gather clues, and hopefully identify who was present and what was happening, all from a few voice lines and a still frame of the exact time they died. Sometimes, one death scene will lead to the discovery of another body, which is another scene, and so on, until you have a little series of events.
These events, in turn, make up "chapters" within your notebook, which describes itself as the catalogue of adventure and tragedy that befell the Obra Dinn. By going around the ship, discovering more and more bodies, and more and more scenes, you'll start to build up a depiction of the characters so you can start putting names to faces — no easy task, given the one-bit graphics and often obscure clues and hints that you'll need to pick up on.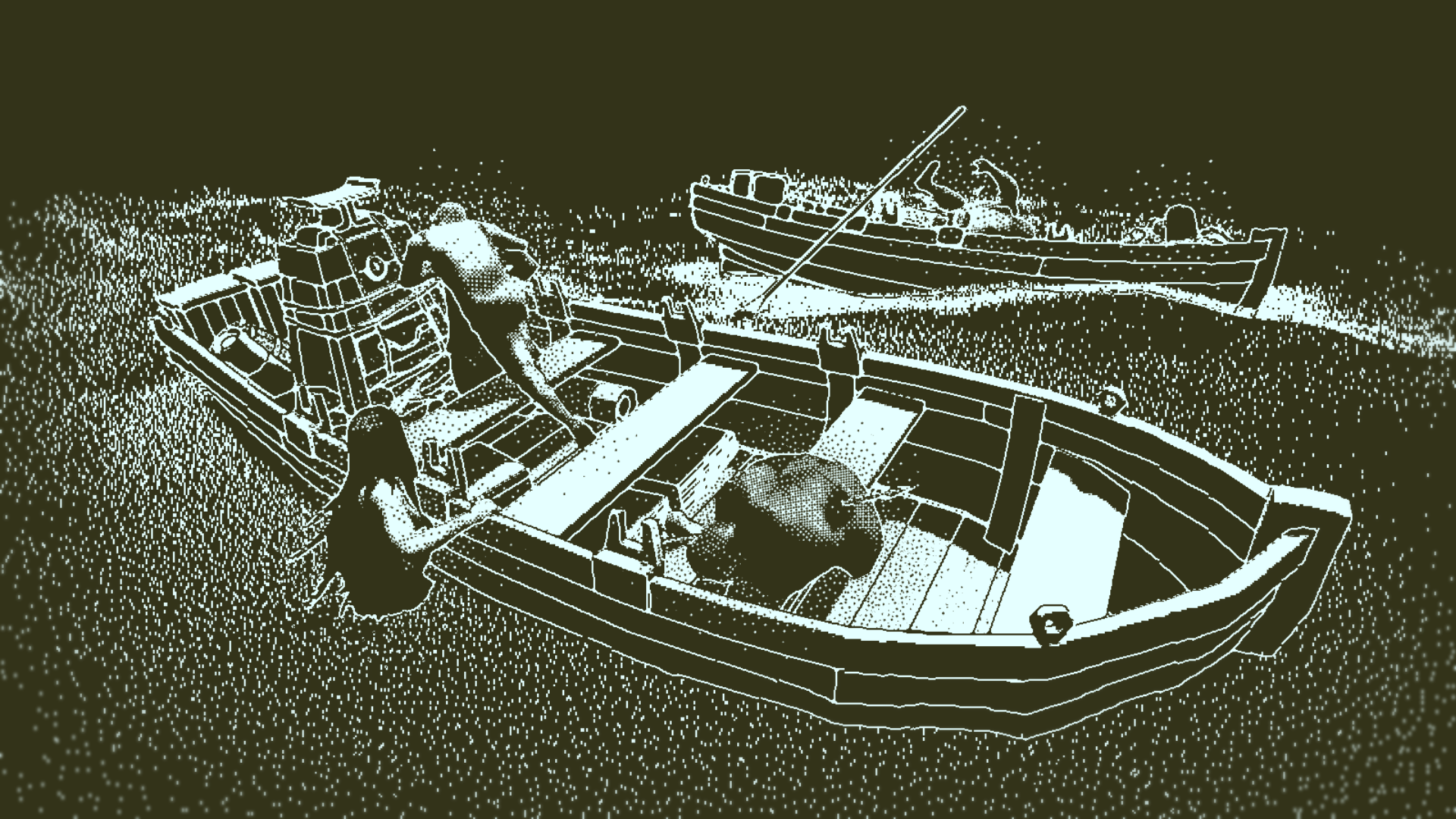 Make no mistake, Return of the Obra Dinn is hard. The game warns you fairly early on that in your quest to identify all 60 passengers and crew and their fates, definitive information that will let you decisively identify someone and their fate is rare. While you'll usually have some idea of how a person died thanks to your magic pocket watch, working out who they are based only on contextual clues — what they're doing in any given scene, what they're saying, what they're wearing, who they appear with — is challenging in the extreme. The game helps by blurring faces in the notebook until it thinks it has revealed all the information you'll need to positively identify someone, but you'll still need all of your powers of observation to do so. At times, you'll need to jump between different scenes in order to work out who someone is, taking a look at where they are, what they're doing, and so on.
It's all very murder-mystery. Only instead of trying to work out who (or in some cases, what) did the deed, the real challenge is putting names to faces.
Unfortunately, that's also where Return of the Obra Dinn falls short. There's basically no replayability, given that once you've figured everything out, that's how it is for the rest of time. It's for this reason that I don't recommend doing what I did and looking up a guide, no matter how stuck you are. The problem with this kind of game is that it's hard for a guide to point you in the right direction, and they may end up just spoiling a few characters or two. Instead, I recommend using all the available clues; the game provides you with all of the details that you need to identify someone, even if they're obscure as all hell. Once you've unlocked every scene, go through and review all of the scenes an individual appears in and try to work out who they are based on what they're doing, who they're with. In any scene, there's usually something that gives away who someone is, even if you have to use a different scene to know what that is.
Return of the Obra Dinn is currently $28.95 (that's Australian dollars to you, pal) on Steam, and you should absolutely buy it if you're at all a fan of putting your observational skills to the test, feeling like a right Sherlock Holmes when one of your inferences pays off, or just lucky when you guess the identities and fates of people you have no idea how to otherwise identify. It's a masterpiece.