Pics to follow, stay tuned!
(If you didn't get that pun, I am ashamed.)
Anyway, here are some pics of the setup: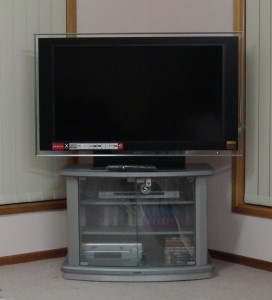 If you're the kind of person who loves their specs, they are here for your viewing pleasure. It's the Sony BRAVIA 40″ X-Series LCD TV, with 1080p, 100Hz "Motionflow", BRAVIA Engine PRO, x.v.Colour, a 10 bit panel, 3 HDMI inputs, etc…
As for the actual TV; it's awesome, I love it! Now contemplating purchasing a TV tuner for my Mac, in tha hopes it will be half as good as the TV 😛
Update: I thought you guys might like an explanation of why there's a new Sony X-Series LCD sitting in my lounge room, and it's because, well, the old TV was getting old. Besides, we wanted an extra channel to watch, as well as digital (ooh!) TV.
It's a massive shame that I don't have any 1080p content to stick through it, so far, 1080i FTA (Free-To-Air) is all I've been able to push through. Hopefully we'll get some sort of upscaling DVD player, to upscale those DVD's from measly 576p to an insane, mind blowing 1080p. It should be awesome. Even more awesome would be true 1080p content, but I'm too poor to afford a Blu-Ray player at the moment 😀
I'm enjoying it immensely – it is by far the best TV my family has ever owned.