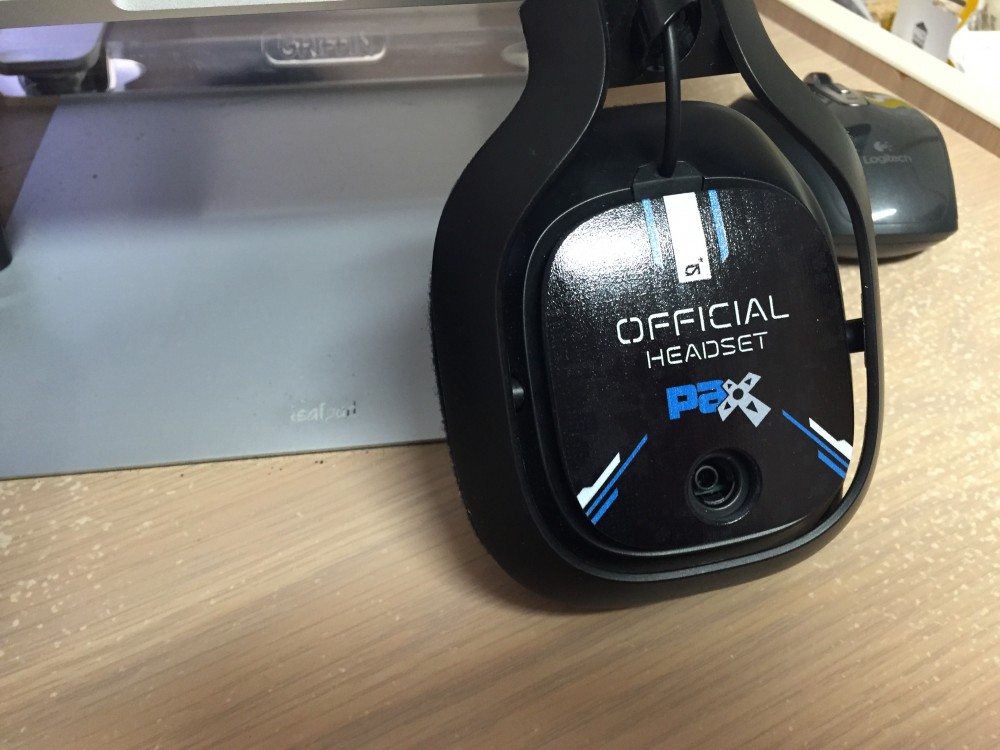 Around the middle of last year, I picked up the Astro A40 headset to replace my SteelSeries 7H, whose microphone had decided it wasn't for this world anymore. They're pretty good, as far as headsets go — a little on the large side, but they're comfortable enough for extended periods. I would have liked the option of leather ear pads for even better noise isolation, but yeah, they're alright.
The A40 is the most customisable headset I've ever used. You can have the microphone on the left or the right, or choose to have no microphone at all. The in-line volume control also houses a mute switch, and secondary microphone, and a button you can use as a kind of push-to-talk (at least, that's what I think it's used for. I've never actually used it).
But the coolest feature about them is that you can customise the speakers with custom speaker tags. Astro were exhibiting at PAX Australia last year, and I was excited to pick up a set of custom tags for my headset at their booth. Alas, when I asked them about custom tags they said they had so few they were only giving them away if you bought a headset — I already had a headset, so that wasn't really an option for a set of $20 speaker tags. Not gonna lie, I was pretty disappointed I wouldn't be able to get some custom speaker tags.
This year at PAX Australia, Astro were exhibiting once again — and this time, they actually had speaker tags on display. During the time only media were allowed into the expo hall, I asked if they would be selling the tags separately this year, and to my delight, they said yes.
I came back a little later, and after umm-ing and ahh-ing over what I wanted — and confirming that I could pick up two tags for $20 (hey, you gotta ask) — I chose to go with the custom speaker tags you see in the picture above. Ideally I would have liked something Dota-related, but after looking online and seeing nothing that really took my fancy, I chose to go with the guy from Battlefield 4 and one of the official Astro/PAX tags. The Astro rep I talked to was super nice and said she'd give me a set of the official Astro/PAX tags, and throw in the Battlefield one for free, which was kind of awesome and more than made up for the lack of tag availability last year. I was super stoked with that!
The funny thing is, I don't even play Battlefield all that much. I used to play Battlefield 3 a bit, and Bad Company 2 a LOT, but Battlefield 4 has basically fallen off my radar. I'm not really sure why, but perhaps I was just sick of that kind of gameplay — these days, I'm all about the Dota.
These words part of Blogvember, a thing I just made up right then about getting back into blogging. You can read more words about Blogvember right over here, but the gist is that I'll be attempting to post something up on the blog every day in November 2014. Read other Blogvember posts.