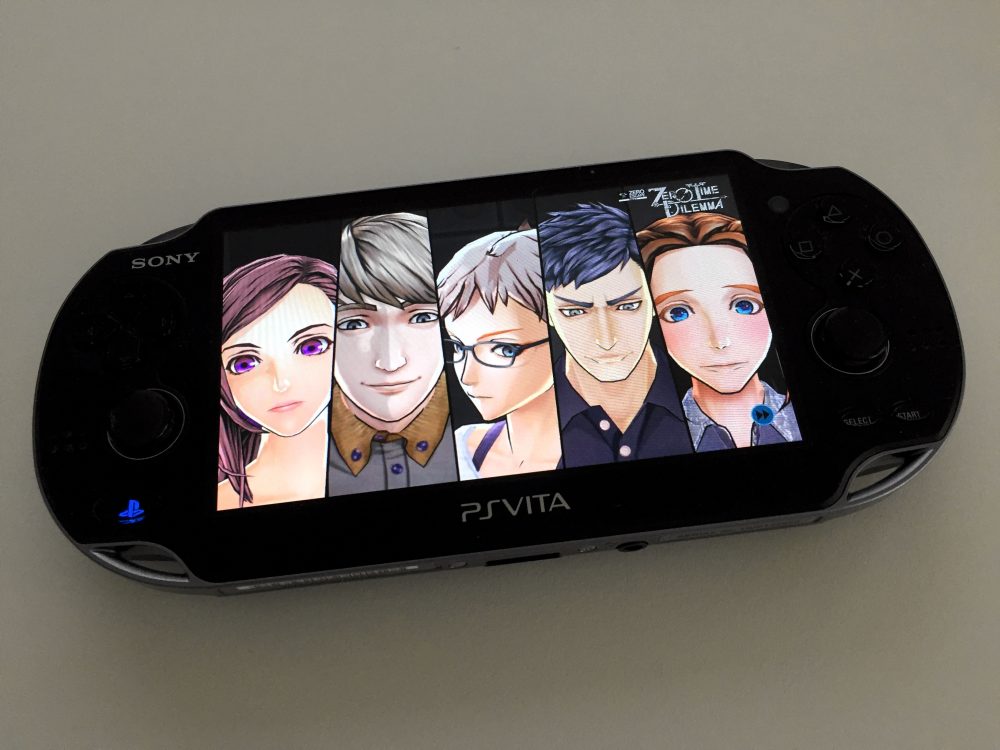 I picked up Zero Time Dilemma last week on the PS Vita, and it's really reminded me why the PS Vita is my favourite console. While Nintendo's 3DS lineup may edge out the Vita in terms of social integrations (StreetPass is a hell of a thing), the PS Vita remains the more "serious", the more mature console. Not because it doesn't have a cutesy interface like the 3DS, but because it lacks the simplifications of the 3DS that make it the more appealing to a younger audience.
Like a lot of 90's kids, I grew up on Nintendo. My friends had the Nintendo 64, I eventually got a GameCube, and there were various portables interspersed throughout all that. The Game Boy Color introduced me to portable gaming, and by the time the Game Boy Advance SP rolled around, I was hooked. (I borrowed a friend's Game Boy Advance for a few weeks, which was pretty cool, but I never had one of my own.) I picked up the original 3DS when it came out, but by that time I had more or less outgrown portable gaming, eschewing it in favour of these new-fangled "computers".
Fast forward a few years. I haven't played Pokémon for far too long, but I get the chance to acquire some 3DS hardware for cheap. I jump at the opportunity, with the intention of sating my desire to catch pocket monsters for another decade or so, publishing a series of posts about the fun I was going to have. Unfortunately, whether it was due to Poké-fatigue or something else, I never ended up finishing Pokémon Y.
Somehow, I ended up buying a PS Vita in the middle of that. I imported it from the US due to Sony being much more lenient with their region-locking than Nintendo was, and I spent a good chunk of time in Persona 4 Golden which I later wrote about.
By the same token, the growing library of titles on the 3DS meant that it was now a compelling purchase. I remember reading about Fire Emblem Awakening somewhere, and feeling it was a good a time as any to jump in, I imported a 3DS XL from the US along with a physical copy of Fire Emblem Awakening.
The 3DS XL was pretty great, despite Nintendo's insistence on region-locking its titles. My imported 3DS meant I was never going to be able to walk into my local EB and pick up a 3DS game on a whim, but I was OK with that, thanks to increased digital availability of titles. I took my 3DS XL to PAX Aus the first and second times, and StreetPass really came into its own as the ultimate social drawcard, even if it meant walking around holding the right shoulder button and giving A a solid workout.
But for all of the 3DS's many compelling titles and social integrations, there's always been something off about Nintendo's portable console. I can't quite put my finger on it, but it feels as though the 3DS is still a console for kids — maybe because it is — but it means that there's this feeling of something missing. As in, why isn't there any easy way to take screenshots on the device to save moments in-game? In a world of super-high resolution displays, why are the screens on the 3DS still the same low-res that we were seeing five, ten years ago? And that's not even talking about the seldom-used 3D feature — although it's cool that Nintendo has come up with a way for glasses-free 3D to work in a portable console, the fact that 3D cuts the resolution in half should mean Nintendo would want to be cramming the highest quality display possible into the 3DS, at least for the upper display.