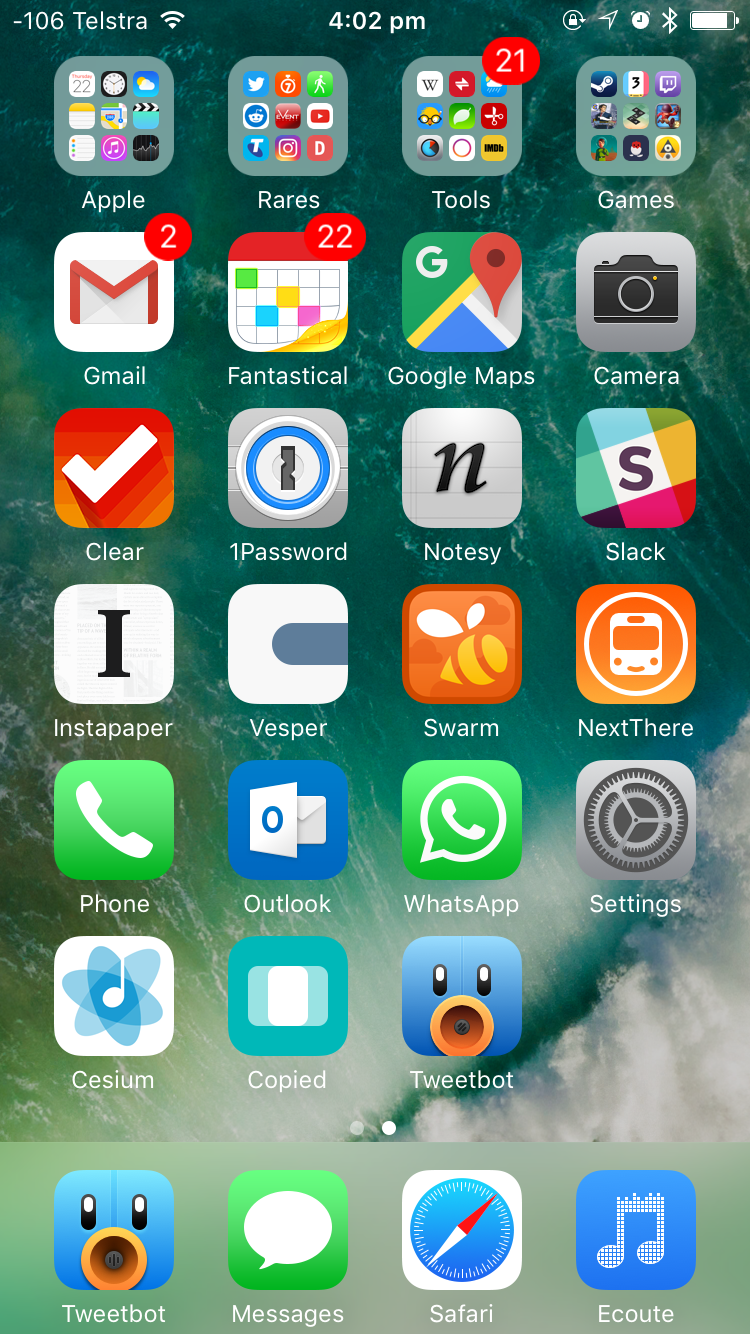 For the first time since the iPhone 4 was released, the iPhone 7 introduced no changes to screen size over the previous model (notwithstanding S-revisions). But sometime during the two years of the iPhone 6 and the iPhone 7, I switched to some variation of the CGP Grey method of home screen organisation, once again covered by Ben Brooks. There's now just one page of apps, at least one row that has no apps at all, and four icons in the dock. Everything else goes in one of the folders.
The advantages of this method of home screen organisation make a lot of sense. The days of having pages and pages of apps were over since Apple introduced folders, and this takes that idea to the next level. No longer do you have to rely on muscle memory to remember which apps are where, and instead, you can rely on Spotlight to find the app you're looking for. Letting go of any inclination to organise those top-row folders is also incredibly freeing.
Your most-used apps can still remain on your home screen, and with iOS 9 and the introduction of Spotlight suggestions, sometimes you don't even have to search for the app you want, as it appears in your Spotlight app suggestions. If you're thinking of adopting this method, I'd highly recommending hit "show more" within Spotlight to show eight app suggestions instead of the default four.
Unfortunately, this requirement for some folders and just one page of apps meant that I had to make some decisions about how many individual apps I had on my home screen. Thankfully, changes to usage patterns made that a little easier. This is going to get a little lengthy, but stick with me.
Let's talk about what was removed, to start off with. If I was going to keep one of the Camera or Photos apps around, it was going to be Camera, as I could always access Photos from within Camera. The argument could also be made for removing Cameras, as you have shortcuts to it from the lock screen and Control Center, but I still wanted it on my home screen too. With a folder dedicated to games, off went Threes. Passbook, Facebook, and Wikipedia also went — not that I don't find those apps useful, but I found I wasn't using them enough to justify a now-scarce spot on my home screen. Once I realised I hardly used the App Store app for finding new apps or basically anything at all, that was also moved into a folder.
Pocket Weather Australia was moved into a folder, which initially proved to be a bit of a dilemma thanks to the fact that the CGP Grey method doesn't work well with folder badges. Folders only have one badge that is the sum of all the badges on apps within it, and because I use Pocket Weather's badge to tell me about the current "feels like" temperature, I had to turn off notification badges for every other app in the same folder. As it turns out, none of the apps in there have badges I care about anyway, so off went that switch.
Boxie fell victim to "internal team issues", which meant that development ceased and the app was removed from the App Store and my home screen not too long after.
Exactly seven apps remain unchanged from my previous iPhone. Fantastical, Clear, Notesy, Instapaper, Vesper, Swarm, and Tweetbot remain the staples of my third-party iOS experience, all representing the best-in-class versions of their respective App Store categories. Tweetbot 4 had only recently been released, which is why I was running it in tandem with the old version until I had a chance to do something about my numerous written, but not tweeted, drafts.
Now, changes.
It was during the period between iPhones that I started a new job in a new city, which meant a work email account. Not wanting to cross the streams, I decided to ditch Mail in favour of Gmail for my personal email. This turned out to be a pretty good choice, as I gained push email and smarter notifications at the cost of not using the built-in mail client. Living in a new city also meant I needed the most accurate data possible for Maps, which meant swapping out Apple's aesthetically-pleasing maps app in favour of Google's more accurate one. The jury's still out on which one I prefer.
Sick of Apple's unending changes to the Music app which removed features I used, I was trialling Ecoute and Cesium as potential replacements for the default Music app. At the time this screenshot was taken, I had settled on Ecoute as I liked how it created a playlist from a folder of playlists containing all the songs within the folder.
Additions to the home screen this time around include:
1Password — I think I added this because I wanted to focus more on using strong, unique passwords for online accounts. Owning multiple computers meant I was logging into those accounts multiple times, and because I haven't ponied up for 1Password on multiple platforms, the iOS version is the next best thing as my iPhone is always with me. Which is a good thing, as the 1Password iOS app is great.

Slack — I'm not sure why this app is on my home screen. I'm a member of exactly one workspace, which hasn't had a message in any of its channels in months. I could easily swap this out with something else, but for now, I enjoy the nerd cred that I get from having it there (even if I'm the only one that knows about it).

NextThere — A new city meant new, real-time public transport options, and that meant NextThere. No other public transport app comes close to the everyday convenience offered by NextThere when it comes to knowing the next train or bus departing from your closest station or bus stop. And besides, who doesn't want a smiling bus on the their home screen?

Outlook — This is for work email only, although I'd prefer using it for Exchange and Office 365 email over the built-in Mail app. Something about a first-party app just makes me feel more comfortable about the reliability of the thing, you know?

WhatsApp — My permanent WhatsApp status says "I begrudgingly use WhatsApp. Please don't message me here unless you really have to." I really have no idea why this was on my home screen at the time of this screenshot.

Copied — With the demise of the iOS version of Pastebot and no replacement on the horizon, I wanted something capable of doing some iOS clipboard management. The need is largely negated now that iOS and macOS talk to each other and I can copy stuff between both operating systems, but having an on-device clipboard manager has still come in handy on occasions, especially when I'm trying to copy and paste between my iPhone and iPad.
The folders themselves are self-explanatory. I could delete most of the Apple apps now that that's a thing you can do as of iOS 10, but I keep them around. There's a bunch of apps in the Tools folder that I rarely touch, and even more apps within Rares that I use maybe a handful of times per year. Games tends to get a few new additions here and there, but for the most part that stays pretty static too.
The eagle-eyed among you will note that I'm not sticking completely to the CGP Grey method of home screen app organisation, because there's three apps in the row that's supposed to kept free. I've been using that row as a trialling ground of sorts — some apps stay there temporarily to encourage use while I give them a red hot go, and from there they'll either get promoted to a folder, or if they're particularly good, a coveted spot on the home screen.
And if they're not that good, then it's the little X for them.