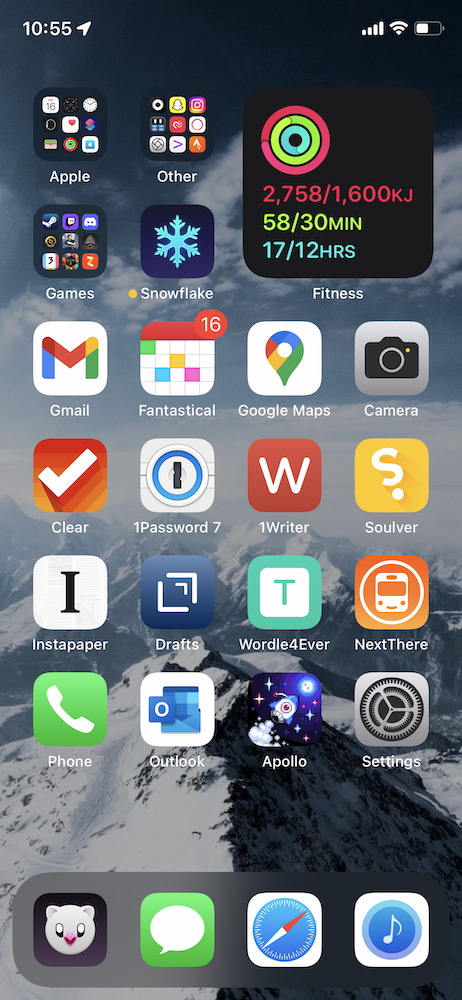 It's been three long years since I last had a new iPhone. While my iPhone 11 Pro remains a best-in-class smartphone that would undoubtedly serve me well for at least another couple of years, it's time to move on.
But before we can do that, I kind of need to break down the apps that are currently on my iPhone 11 Pro home screen. For posterity's sake, if nothing else, but mainly so I can look back on this one day and reflect fondly on the interfaces and design paradigms of the era, for a time in the not-too-distant future when we're all using augmented reality interfaces.
I'm writing most of this while waiting for the delivery of my iPhone 14 Pro. I should have had it delivered to work and had someone else sign for it, because the worst part of having it delivered to your home address is needing to be listening intently for a knock at your door, or if you live in an apartment building like I do, the ringing of your wall phone to indicate someone has called your apartment from the outside. Now I'm stuck here at 6pm like some kind of hostage, waiting for a delivery that would ordinarily, on any other day, have been here already. But maybe there's lots of iPhones on the StarTrack truck today, so the deliveries are taking a little longer than normal.1
In the future I think if I'm not getting my iPhone delivered to work, I'll probably pre-order it for in-store pickup. If I take the day off work I can take it slow, pick it up from the store first thing in the morning, and then spend the rest of the day transferring all my stuff. Maybe taking the single day of annual leave is worth it.
It's been a long time since my last iPhone home screen post. The iPhone X launched in 2017 to much fanfare because it was the biggest change to the iPhone silhouette in the entire history of the iPhone. The distinctive top and bottom bezels were gone, replaced by an almost uninterrupted edge-to-edge display that had a small notch at the top. The home button that had long contained a fingerprint Touch ID sensor was replaced with an upgraded front-facing camera system and biometric unlocking system called Face ID, which shone a pattern of infrared LEDs into your face so you could be recognised by your phone. Combined with an all-new gesture-based navigation system and an OLED display with curved corners that touched every edge on the front of the device, it was the future of iPhones for years to come.
The iPhone 11 Pro wasn't that much different to the iPhone X in terms of the screen. Apple added an ultra-wide camera to the back, and spec-bumped just about every spec they could across the board, and that was about it.
Which might be why, although my home screen looks a little different, my apps stayed more or less the same.
Once upon a time choosing what apps to put on your home screen was a challenge because there were so many apps and only a 5×4 grid to put them in. There might be more and better quality apps now, but because we have folders and search, deliberately choosing which apps go on your Home Screen, versus those that are relegated to a folder, or worse, the App Library, remains as much of a challenge now as it was then, even if it's for different reasons.
I'm still using a modified CGP Grey home screen organisation method, although the only tenet I choose to adhere to is "only one page of apps". With some mental gymnastics I can claim to have a free row, although I definitely have four apps in my dock. The dock's real estate is too important not to, but for big screen phone reasons, not because it's the one row that stays static over multiple pages of apps, because the latter isn't something that I have to consider when I only have one page of apps anyway.
Speaking of which, let's get into the apps.