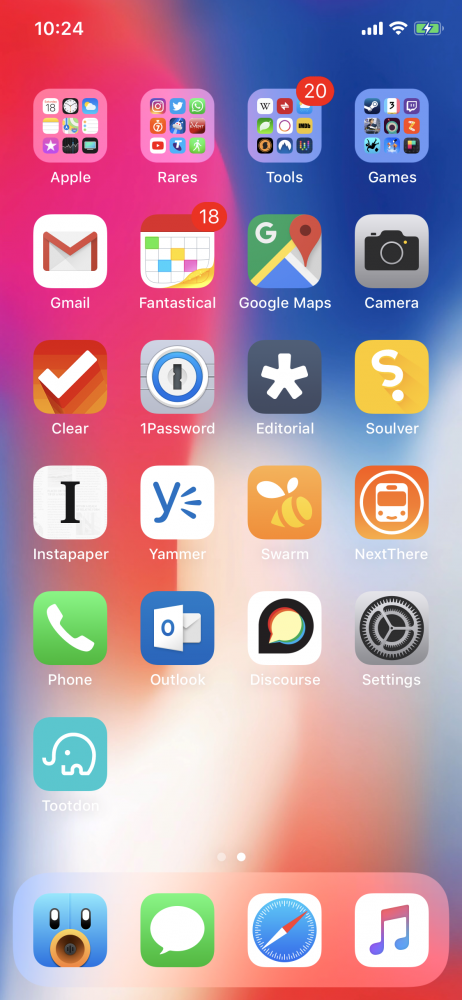 It's 6am. A frankly unbelievable hour. Nevertheless, I've caught the earliest bus I can tolerate, all in the hopes I'll be able to pick up an iPhone X from one of the three Apple stores in the greater Brisbane region. I've chosen Chermside as my go-to — hopefully it's a little less busy because it's a little more out of the way, even though the Brisbane CBD store is easier to get to.
It's not that I forgot to pre-order the iPhone X, it's just that I wasn't sure I wanted one. I wasn't sure then, and I'm still not sure I want one now. But I might as well try. By the time I arrive at Chermside, the queue is maybe 40-something deep. The Westfield is eerily quiet at this time of the morning, but it's nice. Peaceful, even.
I end up lining up for the iPhone X. It's the second time I've ever lined up for any iPhone. I put in a reservation with the Apple blue shirts when they start working their way through the queue at around 7am, who congratulate me on my new iPhone once we're finished choosing. The store opens at 8am, but it's still about another hour after that I get to purchase my iPhone X. Was it worth it? Absolutely.
You probably saw where this was going when I started writing about my iPhone 6 and 7 home screens, years after those devices were released. I thought we needed some kind of catch-up before getting to today's iPhone X home screen.
Given that it's only been a year since the iPhone 7 was released, not much on my home screen has changed. I'm still using a home screen organisation method that's similar to the CGP Grey method, and only a few apps have been swapped out.
Starting from the top:
Notesy has been switched out for Editorial, as the former has been removed from the App Store. They're both pretty similar apps, even if Editorial has a bunch of powerful workflow-type actions that I'll probably never use.

Slack was relegated to a folder after I discovered I wasn't using it as much as I wanted to be, and Soulver makes a return to the home screen in its place.

Vesper was also removed from the App Store and my home screen. I've got Yammer in its place, because I'm now a corporate drone and a slave to the man.

WhatsApp was moved to a folder because I hardly use that either, and the Discourse app lets me check AppleTalk without having to load up Safari, even if it is just a glorified web wrapper.

Ecoute was moved into a folder because it's hard to beat the inbuilt Music app when I'm an Apple Music subscriber. To be fair, Ecoute still works with iCloud Music Library, but the built-in Music app has Apple Music integrations that aren't available on third party apps. I'm also using a manual playlist for the "play all music from playlists within a folder" problem that I described as one of my main reasons for using something other than Music originally.

Tootdon is on my home screen at the moment because I'm trying out Mastodon as an alternative to Twitter. Mastodon feels a lot like App.Net right now, but we'll see how it all pans out.
It's been two weeks since the release of the iPhone X, and so far, Gmail, Google Maps, Clear, Editorial, Soulver, and Discourse don't support the larger iPhone X screen. I'm kind of surprised Google's apps aren't updated, I can understand why Clear hasn't (they're apparently working on a complete overhaul, but the app was very custom to begin with), but apps like Editorial, Soulver, and Discourse are a little behind. Discourse is particularly puzzling, given that it looks like just a super-barebones web wrapper that you wouldn't think has much custom code.
But there's another problem with the iPhone X that's just as important as non-optimised apps: it's almost impossible to find great wallpapers for it. Even if you do manage to find something with the right resolution and the right aspect ratio, the quality of the screen means you'll quickly notice any imperfections. Thankfully, a few recent Samsung devices (the S8, S8+, Note 8, and slightly older Note 4) all have displays with similar aspect ratios. If you can tolerate a slightly zoomed wallpaper, then there's a whole range of 2560×1440 wallpapers that you can find. I've also been using Vellum.